Air Ambulance on the School field
Air Ambulance on the School field
26 April 2021 (by admin)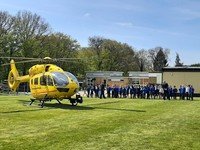 Dear Parents and Carers,
At approximately 11.50am today, an Air Ambulance landed on our field to assist a member of the Coopersale community.
The pilots have allowed our children to visit and talk to the children in their bubbles across our lunchtime.
Our thoughts and prayers go to the community member in need of medical assistance.
Kind regards,
Mr Bateman
Headteacher