The school colour is Royal blue.
Contact createidentitee.co.uk, to purchase our embroidered items with the School's logo.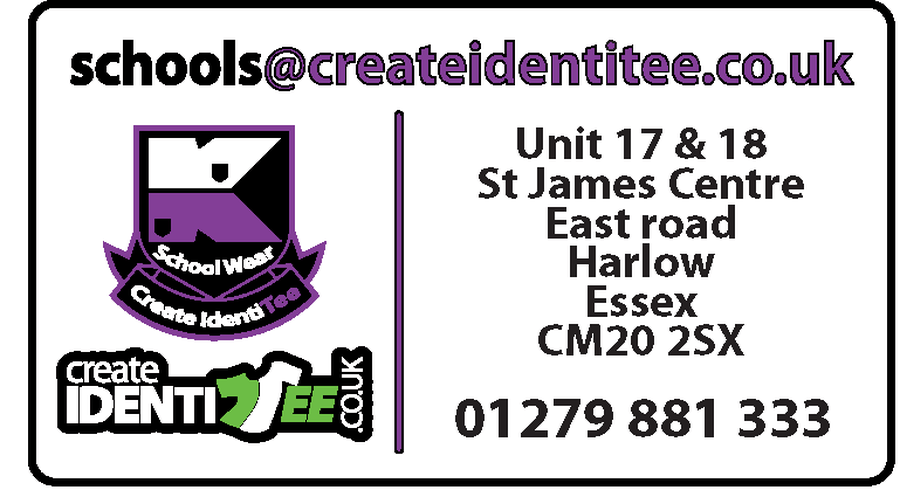 Currently, 'createidentitee.co.uk' website is being upgraded. Until completed, our School's page will not be shown on their website. For the interim, whilst website ordering is not possible, please see the below leaflet for item information. Fill in the leaflet below and email your order to: schools@createidentitee.co.uk or alternatively, order by phone or visit to the store (see details above).
School uniform policy:
White polo shirt or white shirt/blouse, either plain or with the school badge.
Royal blue school sweatshirt/jumper or cardigan.
Dark grey, black or navy trousers, shorts, skirts or pinafores.
Girls may wear light blue and white dresses in the summer (warmer months).

Leggings are not to be worn at any time.

At no time are children allowed to wear sportswear with designer labels or football team logos in school apart from on a non-uniform day.
Footwear:
Children should wear shoes which fasten securely for safety reasons.
Open toes with high heels or sling backs are not appropriate for wearing in school.

Children should wear black shoes or plain black trainers. (No vivid colours or large logos please).

Children may change into trainers at playtimes if they wish to play football or netball.
PE Kit:
School white t-shirt and royal blue shorts.
Children must have plimsolls to wear in the hall.
Trainers can be worn for P.E. outside.

Jewellery:
Jewellery must not be worn in School. The exception to this is "Medi-alert" bracelets which are sometimes worn by sufferers of epilepsy, diabetes or nut allergy.
If a child has pierced ears then loops are dangerous in school and must be removed. Only small studs can be worn. All earrings should be removed during P.E, and it is the child's responsibility to do this.
Please ensure that nail vanish is not worn at any time.